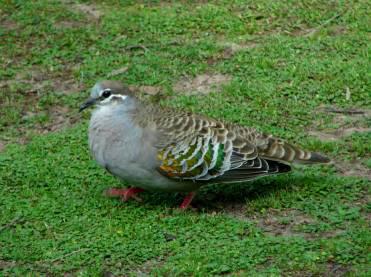 Common Bronzewing
Scarce in SE Melbourne, feed on seeds of grasses but likes larger seeds from wattles, wheat, tree lucerne. Needs water.
Males have a yellow forehead.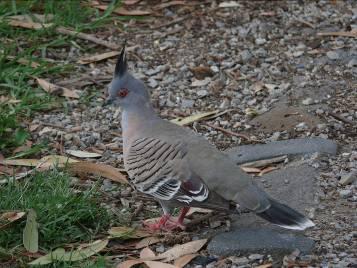 Crested Pigeon
Dry country bird first seen in Bayside in 1994. Now in all open spaces. A symptom of climate change?
Only one with that spiky hair-do!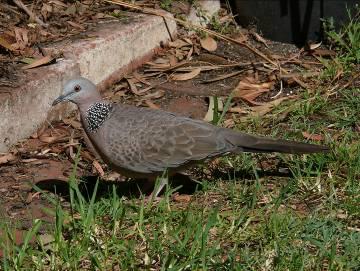 Spotted Turtle-dove
Common in gardens and bush. Introduced from SE Asia in the nineteenth century.
Has a spangled collar.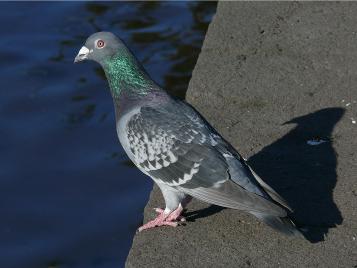 Rock Dove
European, introduced almost worldwide. Huge range of breeds including racing and white fantailed pigeons. Few live away from humans.
Has a bump above bill (the "cere").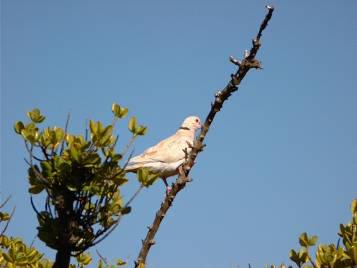 Barbary Dove
Domesticated for centuries in North Africa. A few released or escaped cage-birds have nested in Bayside.
Black collar band. Some are white.
Three other pigeons seen in Bayside in the last 10 years are far less common: the Brush Bronzewing and two probably from aviaries, Diamond and Peaceful Doves. All are Australian.